The best warm up exercises for kids are easy to do, easy to teach and FUN! Games like 'Simon Says' work great for young kids and older kids can try progressive exercises like high knees, butt kicks, walking lunges, side shuffles and jumping jacks.  Warm ups are important to improve performance and prevent injury.
We found this fun, free printable Simon Says activity sheet at family/lifestyle blog, 730 Sage Street.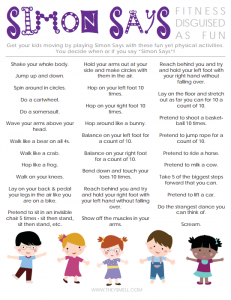 #RunForIt is our six-week run training + activity program designed to help you conquer your first 5k. To download our entire 6-week run training program, created by a Pediatric Rheumatologist & Sports Medicine Doctor from BC Children's Hospital, click here.